Your advisory filters are the key to receiving the relevant information from Leads 2 Business on a daily basis. The Daily Advisory is sent via e-mail in the afternoon and contains a summary of all the new projects and tenders published for the day according to how your filters are set up.
To view or edit your profile, log in and click on your name on the top right-hand side of the website, then select 'Advisory Settings' or via the Menu under Advisories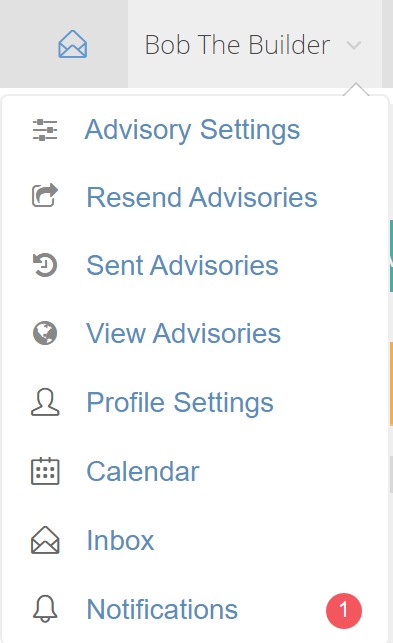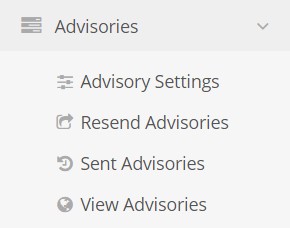 You will be redirected to the Advisory Filter Wizard to update your settings:
You need to ensure that there is a tick next to your email address. If it is showing X, it means that you have not confirmed your email address and you will not receive your Daily Advisories. If you would like to have your Confirmation Email resent to you, tick on the block on the right-hand side of your email address, then select actions and select 'Resend Confirmation Email'.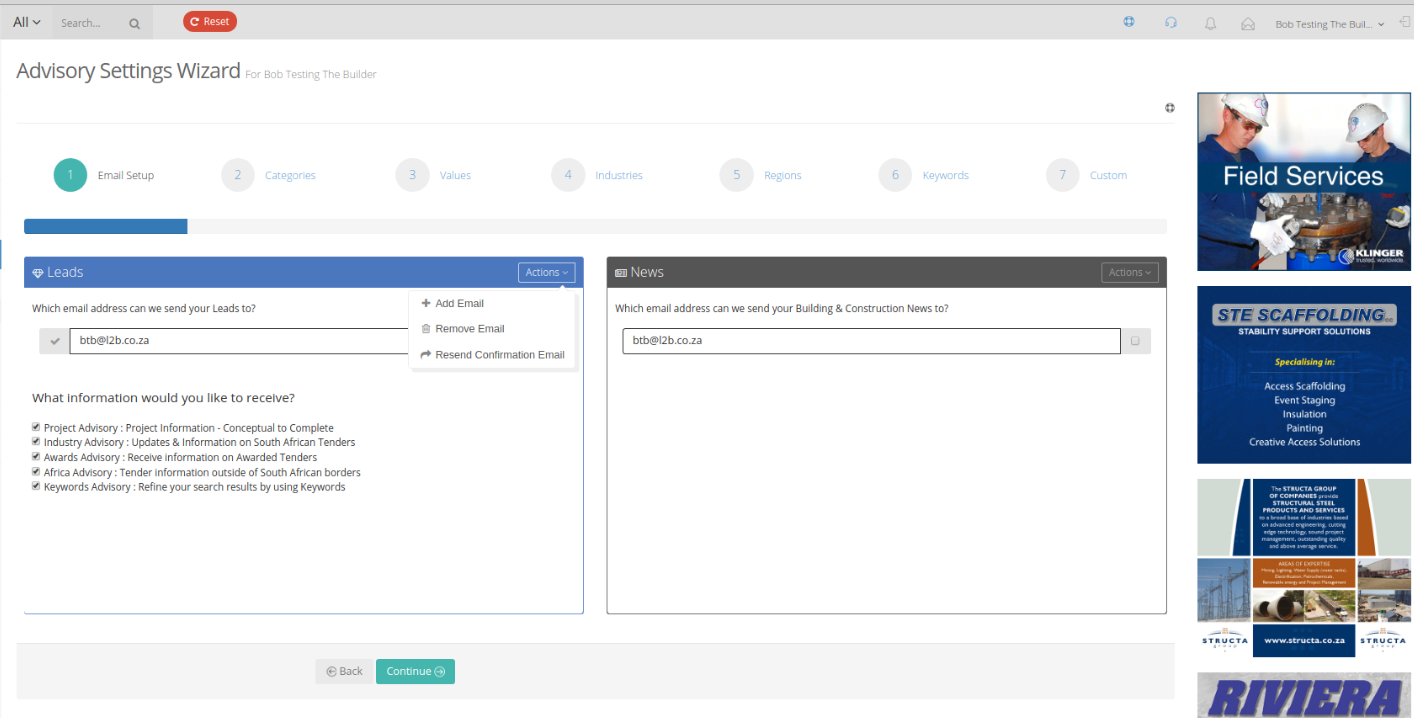 If you are subscribed for Projects you will need to ensure that you have 'Project Advisory Project Information – Conceptual to Complete' selected in order to receive information on Projects published.
'Industry Advisory: Updates & Information on South African Tenders' will allow you to select what Tenders you want to receive by category i.e. building, infrastructure, security and fire etc.
'Awards Advisory: Receive information on Awarded Tenders ' will result in you receiving award information on Tenders that fit into your selected filters
'Africa Advisory: Tender information outside of South African borders ', you will be sent information on Tenders that fit into your filters which are outside of South Africa (if you are subscribed to receive Africa information)
'Keywords Advisory: Refine your search results by using Keywords ' will allow you to select your own specific keywords, i.e. CCTV, Grass Cutting, Office Furniture etc. Our server searches which tenders have your keywords in them and will send these to you in the Keyword Advisory on your Daily Advisory.
Once you have selected from this list, click on continue at the bottom of the page.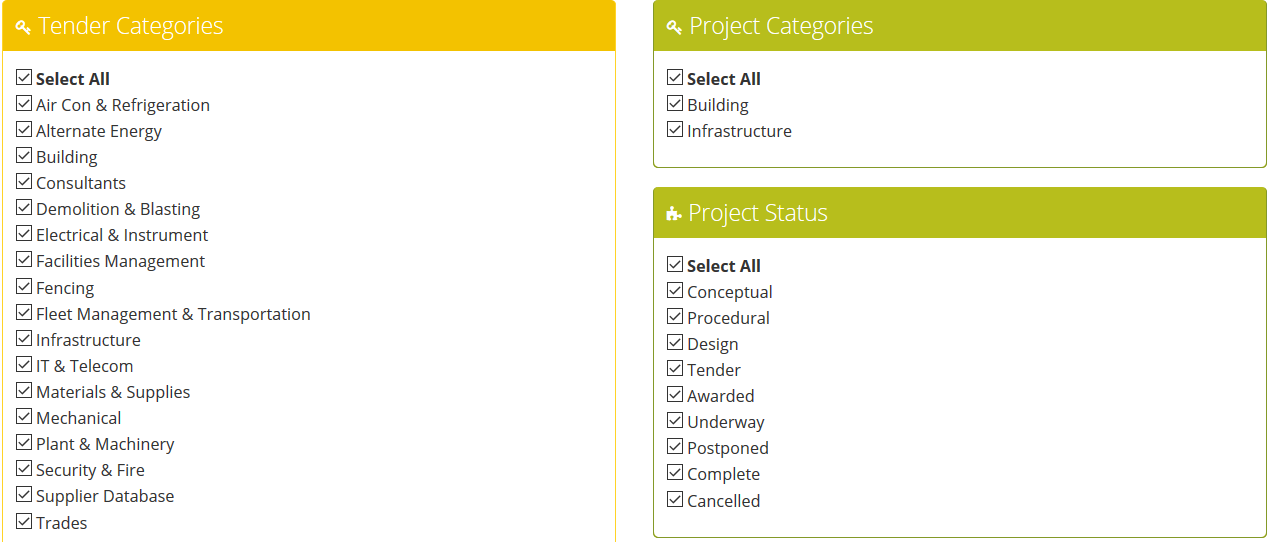 Tender Categories:
Select which Tender Categories are relevant to your business:
Air Con & Refrigeration: Air Conditioners, HVAC, Cold Rooms, Server Rooms
Alternate Energy: Solar, Wind, Nuclear, Hydro
Building: Building within the various Industry Sectors
Consultants: Professional Services, Architects, Quantity Surveyors, Consultants, Feasibility Studies, EIA's
Demolition & Blasting: Demolition, Blasting
Electrical & Instrumentation: Electrical Reticulation, Electrical Repairs, Transformers, Control Panels
Facilities Management: Cleaning, Gardening, Pest Control, Property Management
Fencing: Fencing, Palisade Fencing, Gates, Electrified Fencing
Fleet Management & Transportation: Supply / Leasing of Vehicles, Transportation of Goods, Vehicle Tracking
Infrastructure: Infrastructure and civil works within the various Industry Sectors
IT & Telecommunications: Computer Hardware / Software, PABX, VOIP, Internet, Fibre Optic
Materials & Supplies: Supply of Building Materials
Mechanical: Valves, Filters, Screens, Mechanical Installations
Plant & Machinery: Heavy & Small Plant, Yellow Metal, Machinery, Excavators, TLB's, Generators, Compressors
Security & Fire: Security, Guards, Cash In Transit, Alarms, Sprinkler Systems, CCTV
Supplier Database: Register as a vendor on Supplier Database
Trades: Plumbing, Painting, Tiling
Project Categories & Project Status:
If you are subscribed for Projects you will need to select one or both of the the following:
Building – Building within the various Industry Sectors
Infrastructure – Infrastructure and civil works within the various Industry Sectors
Your Projects Status is determined by when you will need to get involved on a Project:
Conceptual: This is the beginning phase of the Project. The Developers will be securing funding and feasibility.
Procedural: This involves obtaining Environmental Impact Assesment, Property Rezoning and Appointment of the consulting team
Design: Most of the Design team will have been appointed at this phase and they are working on Plans and Bill of Quantities
Tender: The Project is out to tender to main contractors. Bidding main contractors using our site to obtain pricing from sub-contractors and suppliers will be listed under the Bidders tab.
Awarded: Project has been awarded to a main contractor
Underway: Early underway projects will be when the main contractor has just moved onto site, and this will be tracked until it has been completed
Postponed: The Project is on hold, if you assisgn yourself as a monitor you will be notified via email when the status changes and the Project is resumed
Complete: Practical completion is nearing the end or is structurally complete
Cancelled: Project is no longer going ahead
Once you have selected from this list, click on continue at the bottom of the page.
Select the relevant CIDB Gradings for your company as well as the relevant Project Values. These values are the amount for the construction of the entire project.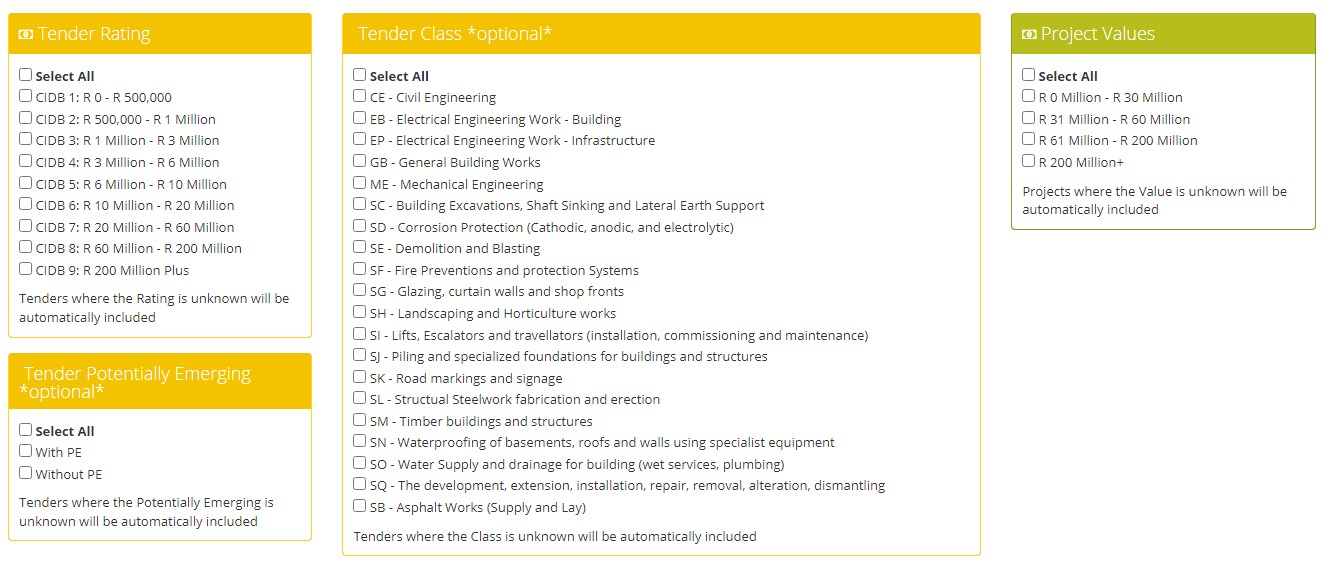 Once you have selected from this list, click on continue at the bottom of the page.

Select which Industries are relevant to your business:
Factory & Warehousing: Factory, Warehousing, Boiler, Processing Facility, Storage Facility, Manufacturing Facility, Loading Facility, Workshop, Pack House, Depot
Healthcare: Hospital, Medical Consulting Rooms, Treatment Centre, Wellness Centre, Rehabilitation Centre, Frail Care, Medical Centre, Clinic
Hospitality & Leisure: Lodge, Hotel, Fitness, Gym, Hospitality, Golf Course, Casino, Theme Park, Inn, Arts And Craft Centre, Theatre, Restaurant, Conference Centre, Spa, Nature Reserve, Game Lodge, Resort, Wedding Venue, Caravan Park, Civic Centre, Stadium
Industrial: Light Industrial, Investment Park, Industrial Development, Industrial Park, Supplier Park, Logistics Hub, Industrial Hub, Business Park, Industrial Facilities, Industrial Business Park, Industrial Cluster, Nuclear Power Plant, Manufacturing Plant, Brewery, Plant, Mill, Coal Plant, Biofuel
Institutional: Police Station, School, College, Education, Training Facility, FET College, Community Centre, Fire Station, Museum, Research Facility, Library, Military, Lecture Hall, Precinct Station, Campus, Prison, Court, Institutional, Learning, University, Academy, Church, Border Post
Mining: Mine, Shaft, Smelter, Furnace, Colliery, Concentrator, Thermal, Desalination, Pelletising, Sintering Plant
Office & Commercial: Office, Business Estate, Commercial, Bank, Commercial Precinct
Power Grid: Sub Station, Solar, Wind Farm, Power Line, Hydro, Photovoltaic, Cabling, Fibre Optic
Renovations: Repairs, Renovations, Alterations, Rehabilitation, Demolitions
Residential: Residential, Retirement, Estate, Lifestyle Estate, Village, Low Cost, RDP, Accommodation, Apartment Block, Loft, Flat, Studio, Tower, Multi-Level, Storeys, Hostel
Retail: Malls, Shopping Centre, Retail Centre, Stores, Shopping Complex, Retail, Value Centre, Dealership, Multi-Purpose Centre, Vehicle Showroom
Road: National Road, Highway, Bridge, Intersection, Road, Street, Carriageway, Freeway Transport Terminal: Railway, Airport, Harbour, Loading Dock, Taxi Rank, Bus Terminal, Railway Station, Port, Container Terminal, Quays, Slipway, Passenger Terminal, Dock, Runway, Apron, Pier, Truck Stop
Water: Bulk Infrastructure, Ablution Facilities, Storm Water, Dam, Pipeline, Reticulation, Civils, Water Supply Schemes, Waste Water Treatment Works (WWTW), Sanitation, Water Supply Network, Water Mains, Storage Tank, Reservoir
Once you have selected from this list, click on continue at the bottom of the page.
Select which regions you want to receive information for.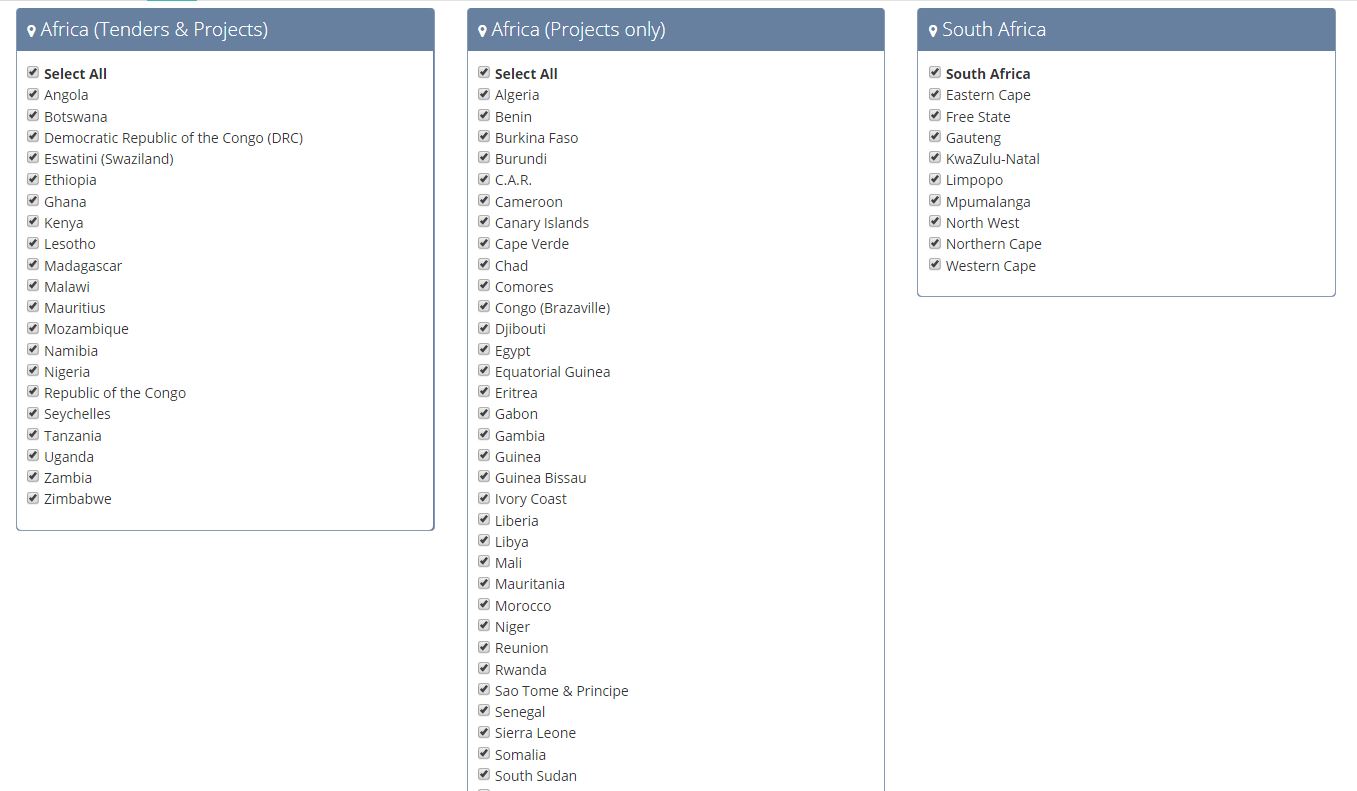 Once you have selected from this list, click on continue at the bottom of the page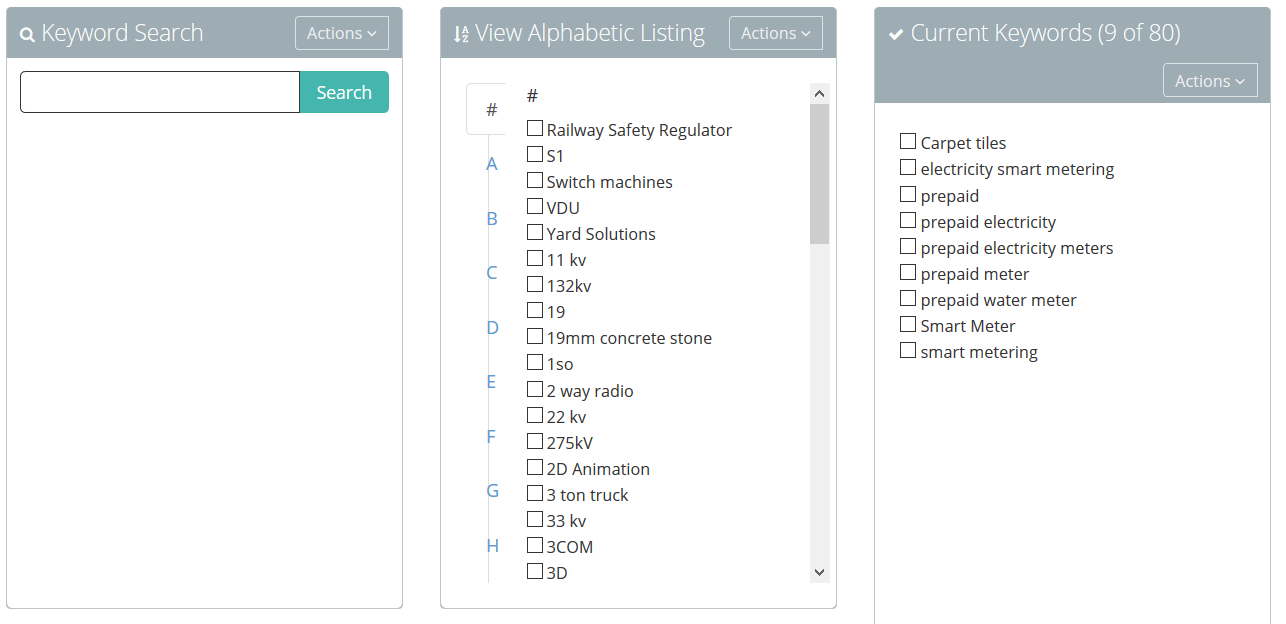 Selecting Keywords:
Our server searches for your keywords within the tenders that are published each day, and the relevant tenders are then included in your email under the 'Keyword Advisory'.
To search specific Keywords, use the block on the
left hand
side of the page: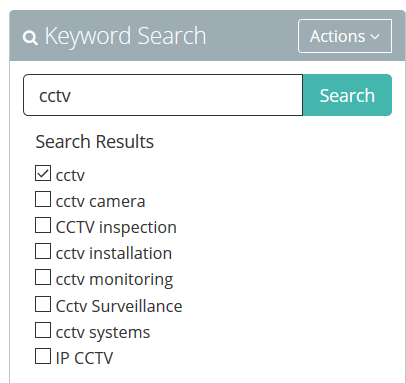 Here you are able to search your keyword and select 'Search', a list of all of our keywords which include your word will be displayed.
Select which words you would like to add to your selection and then click on 'Actions' and select 'Add Keyword'.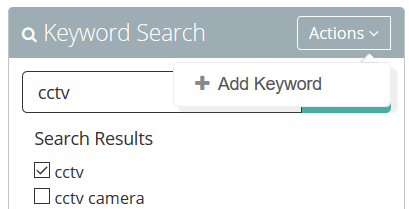 This will add the selected keywords to your list of keywords in the block on the right side of your screen.
If you would like to choose keywords from our list of keywords, you will use the middle block. By clicking on a letter on the side in blue, this will take you to all the keywords that we have listed starting with that letter.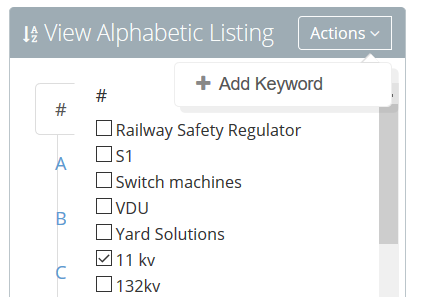 You can then select the keywords that are relevant, then click on the 'Actions' option at the top of the same block, and select 'Add Keyword'.
Your 'Current Keywords' are the keywords that are used as filters for your emails: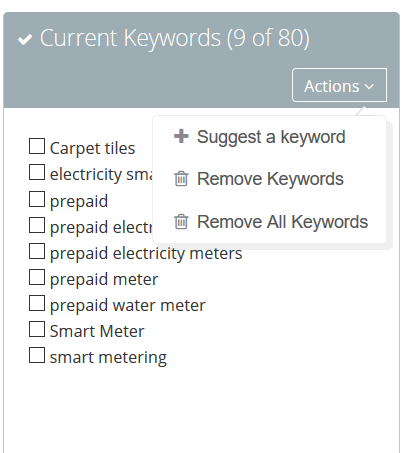 If you would like to remove or suggest a new keyword you will select the 'Actions' option at the top the block on the right side of your screen.
Once you are happy with your keywords, select continue at the bottom of the page.
Additional Options:

Send me an Email even if there are no results that match my filters – If nothing is published according to your filters for a specific day, we will still send you an email, just to let you know that we haven't forgotten about you
Send me all award information regardless of my filters – This will forward all tender award information that we publish.
Apply keywords to all available tenders, regardless of my Advisory Profile Filters – This searches for your keywords throughout all the industries and regions, if this is not selected, the server will only search your selected industries and regions for your keywords
Keywords ignore profile filters except Regions – ignores all filters as per above accept Regions
Send the previous advisories – If selected, this will email you the previous days Daily Advisory to show what was published according to your filters that you have just updated.
Exact Keyword Matching – Warning: This will only match whole words exactly. Please note that this option overrides how Keywords currently work (ie. partial matches) and only looks for exact matches.
Once you have selected from these, you will need to scroll down and select 'Save', your new Advisory Filters will be implemented