Industry – This indicates in which sector the work is taking place. The Industries are: Factory & Warehousing; Healthcare; Hospitality & Leisure; Industrial; Institutional; Mining; Office & Commercial; Power Grid; Renovations; Residential; Retail; Road; Transport Terminal; Water.
For Example: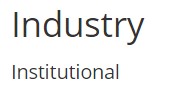 The Industries correspond to the Industries selected on the Advisory settings:
Protip: Unless there's a particular industry you are not interested in, select all the Industries.