CIDB aka Tender Values

To Search by all Tender Value Click the select all check box
To view all Tender Value filters click the expand icon.
Select the relevant Rating and/or combination of Class or PE by expanding each section in order to narrow down your search accordingly. Keep in mind that these are very specific selections and will narrow down your results very specifically.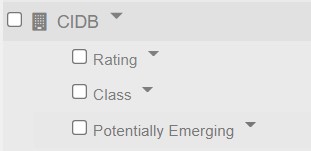 Below is a list of all Tender Values as per the Advisory Settings