The Status Filter allows you to search according to the Project Development Phases
CONCEPTUAL
This stage is the beginning phase of the project development. The following can occur at this stage of the development:
Appointment of a Client / Developer
Feasibility Process
Securing Funding
Request for Proposal
PROCEDURAL
This stage of project development involves obtaining various approvals and authorisations:
Basic Design
Geo-technical Study
Licensing
EIA Process
Property Rezoning
Professionals
DESIGN & TENDER STAGE
Development involves detailed design, the tender process and bill pricing. The majority of the Project Professionals have been appointed at this stage. Bidding Contractors' details are listed under Bidders.
Where the following can occur:
Detailed Design
Expression of Interest
Negotiation
Tender
Appointment of an Anchor Tenant
Invited to Tender list
AWARDED AND UNDERWAY DEVELOPMENT PHASE
The main contractor and subcontractors have been awarded and project development is underway.
The Main Building and Civil Contractor details are listed under Awards.
COMPLETED PHASE
In the completed phase of project development, it means practical completion is nearing the end or it is already structurally complete.
POSTPONED
Project developments can be postponed or put on hold for various reasons. If you are monitoring a project where this occurs, you will receive an update email when the status changes.
CANCELLED
These Projects have been cancelled.
To Search Projects by All Status's click on the Select All checkbox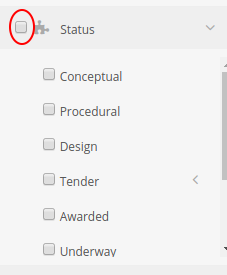 To filter your results by a specific Status click the check box next to the relevant filter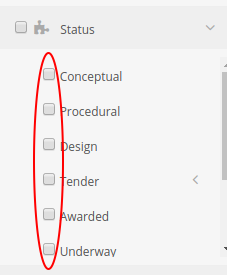 Below is a list of all the Project Status's
Conceptual
Procedural
Design
Tender
Awarded
Underway
Postponed
Complete
Cancelled